How to Trek the Annapurna Circuit in Nepal Without a Guide
How to Trek the Annapurna Circuit in Nepal Without a Guide
Exhausted, freezing and aching, I collapsed onto the snowy mountainside. A simple sip of hot tea had never tasted so good.
I had made it: 5,416 metres, 10 days of hiking through some of the most beautiful, and challenging landscape I had ever set foot on. Here I was, the summit of the Thorong-la-pass on the mighty Annapurna circuit.
An Unlikely Hiker
I never expected to be here. I reluctantly climbed my first mountain only a few years ago, complaining for the first day that I hated hiking. Two days into that trek I fell in love: with the freedom, with the endless open landscapes and mountains. I loved watching the changing colours in the sky, and the fact I didn't see another human for a day at a time. Anyone who has ever hiked will know that deeply satisfied sleep that only comes from absolute physical exhaustion.
Fast-forward to a year later and here's how my thought process went:
"I want to go on an adventure…"
"Hmm, nobody I know wants to go with me…"
"I couldn't do it alone though… could I?!"
*Books flight*
Kathmandu to Pokhara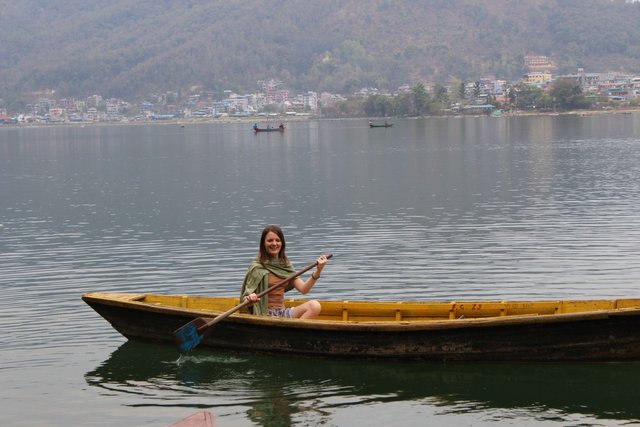 The rest was the easy bit. Once I had landed in Kathmandu, I took a tourist bus to Nepal's second largest city, and the setting off point for the Annapurna circuit: Pokhara.
I made friends quickly, and spent five lazy days by the lakeside in Pokhara. I relaxed in the cafes and restaurants, took a paddle boat over to the Peace Pagoda, and prepared myself for the big expedition.
The Mighty Annapurna Circuit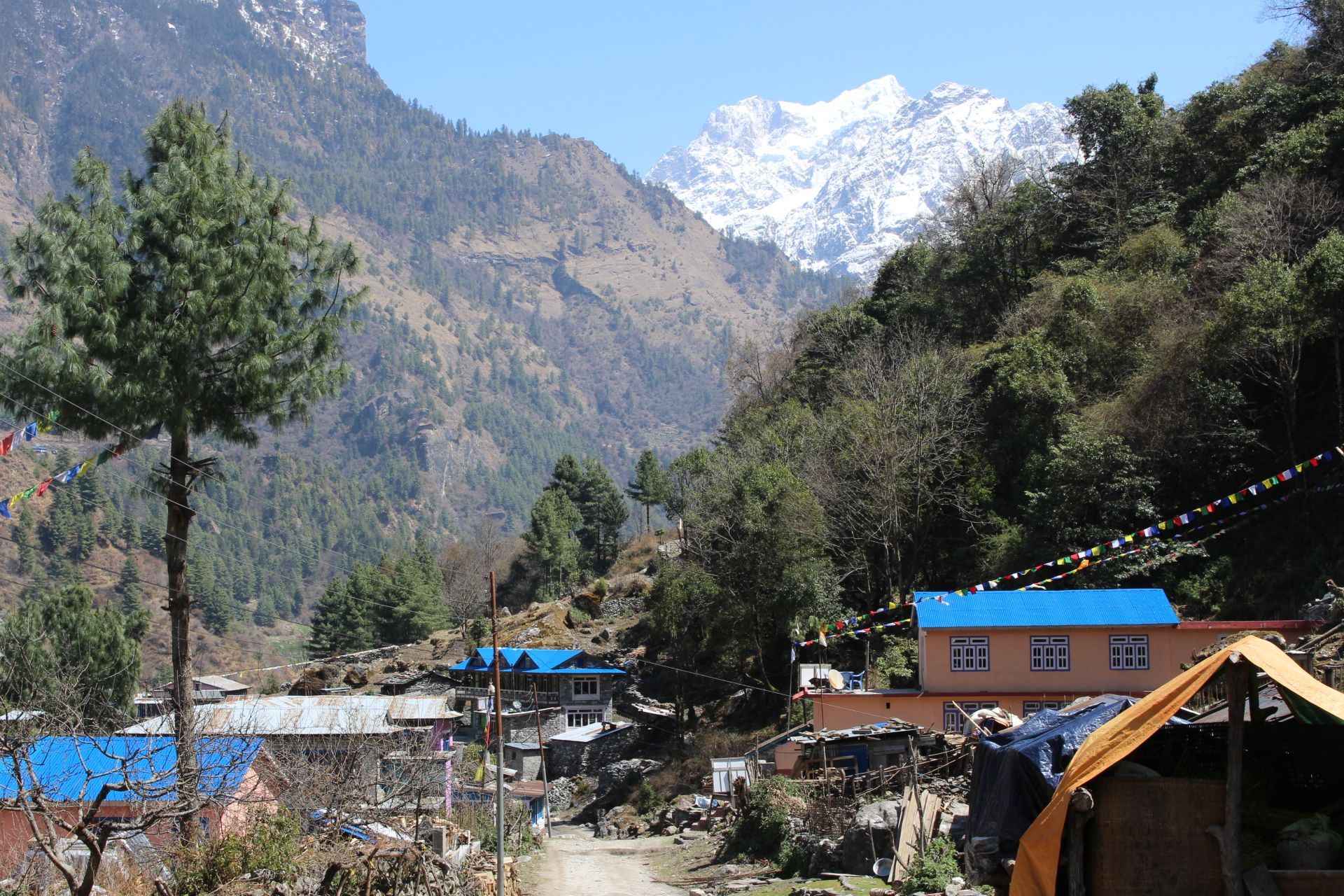 Soon the day arrived to set off towards the snow-capped peaks of the Annapurnas. I jumped on an early morning tourist bus, dropping us at a town called Besi Sahar. For many, this is the start of the trek, but it requires 4 hours of walking mainl along a roadside, so I decided to skip it and go straight to the town of Ngadi.
The next 10 days consisted of an average of 5-6 hours of walking a day through the most spectacular scenery I have ever seen. Staying in brightly coloured village guest houses perched atop valleys, or nestled into hillsides. I felt satisfied exhaustion as I took delight munching on a well-deserved momo dinner, and drinking down hot lemon and ginger teas. Every few hours of walking, every turn in the track, revealed new landscapes, colours and vegetation. From the lower lying grass valleys, following the path up jagged cliff edges falling down to the burbling streams below.

As I climbed higher, my limbs became stronger, and alpine forests began to emerge covering the surrounding peaks with a thick carpet of dense green. Piles of snow upon their roots signalled that spring hadn't quite arrived yet. Spindly, but sturdy, metal rope bridges connect the valleys as you ascend into the gods, testing your wobbling legs as the mountain air hits your face.
The Final Climb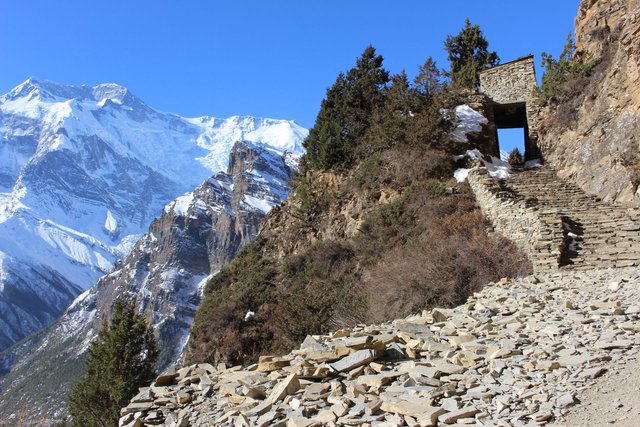 The final few days of the trek are the most exciting and arduous. By now, you feel fit and ready for the challenge, but the altitude is weighing you down. After a few days of necessary acclimatisation in the town of Manang (3520m), you begin to head towards the fabled Thorong-La-Pass.
The temperature drops and the scenery becomes more stark as you climb the final few thousand metres. Two days, and one more guest house later, and you reach base camp for the pass – Thorung Phedi. *You can also stay 500m higher at Thorung High camp to save the morning climb, but the altitude makes it all but impossible to sleep!
The day of crossing the pass, you awake early and do the first part of the trek in the dark. As perilous as this seemed (following a string of flashlights up a steep mountain side), it was essential with several feet of snow on the ground threatening to melt in the midday sun.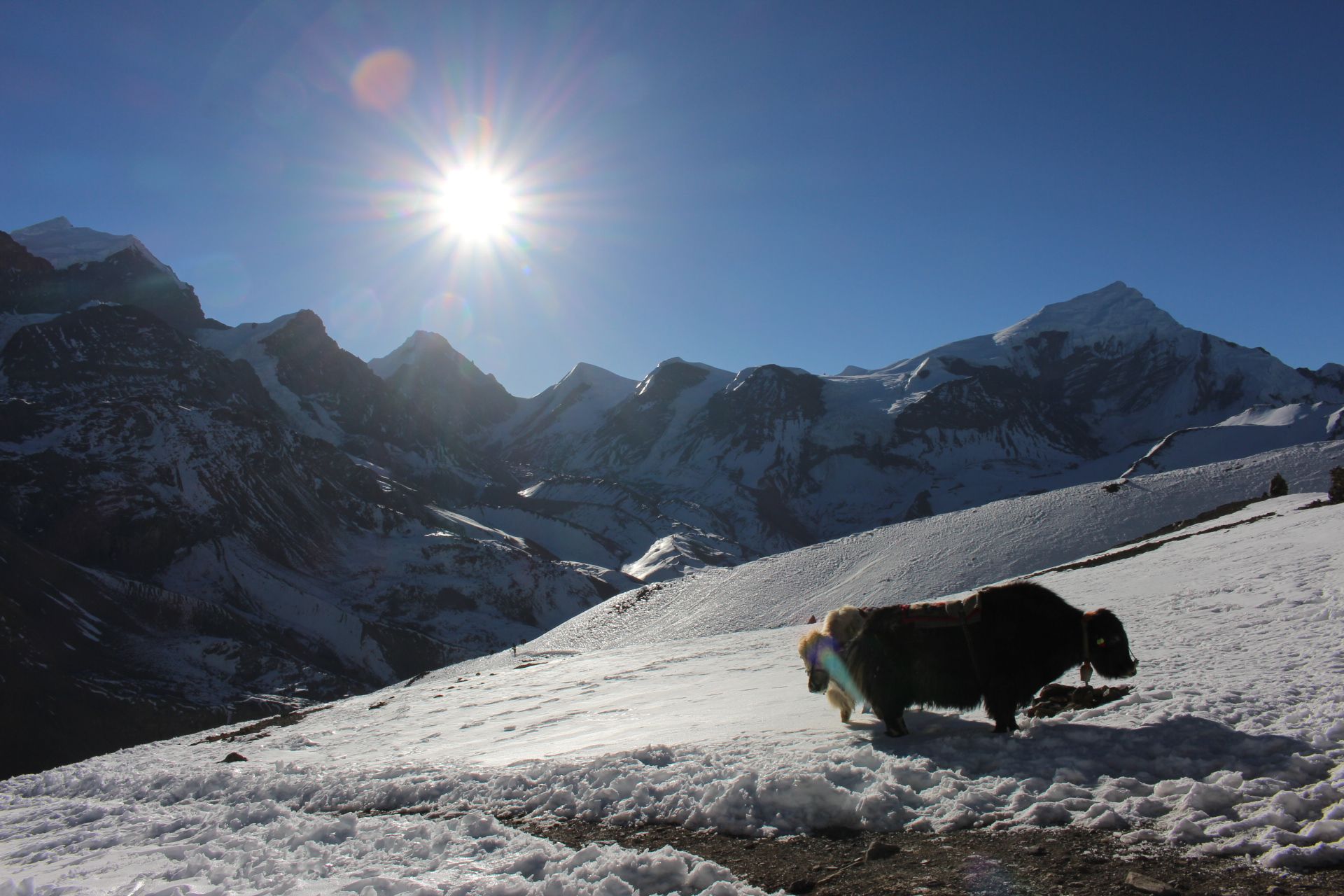 Four hours of trudging, and several false peaks later, and there I was at the highest point I had ever been, higher than most humans have ever been, with a big fat smile on my face!
After an even longer and more difficult walk down the pass (they don't warn you about that!), I rested in a guest house that could only be described as an oasis. Enjoying much-deserved hot showers, cold beers and delicious food, I flicked through my photos of the last 10 days – how right I was to book that flight…
The Route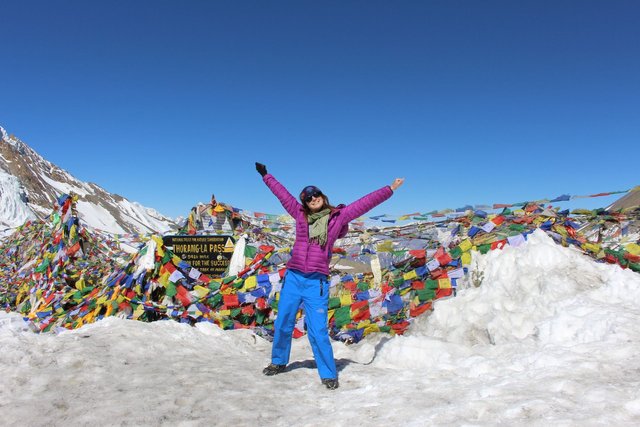 There are many different ways of doing the trek depending on the pace you want, but on the advice of an experienced trekker, this is the 10 days route that I took, and the villages I stayed at along the way.
Ngadi – Jagat- Tal – Chame – Upper Pisang – Gyaru – Manang (2 nights) – Yak Kharka – Thorung High Camp- Muktinath
*You can continue the route onwards from Muktinath but as it was alongside a dusty and busy road, so I opted for a tourist bus back to Pokhara.
My Top Tips for a Solo Annapurna Trek
 Ask for Advice
Much of the online research I did about this trek was redundant when I arrived. For example, the 'spring' weather was in fact snow, and minus temperatures requiring me to buy a whole new trekking wardrobe or freeze my finger tips off.
I highly recommend asking for advice from trekking/tour shops, or from trekkers who have recently done the route themselves. Information changes all the time, so the best way to find out what you need to know is to ask the locals.
 Go at Your Own Pace
The length of time the trek takes completely depends on how long you want it to take. A 10 day trek worked out as an average of around 6 hours a day (some days more, some days less). You can do it quicker or slower depending on how fit you are, and how much time you want to spend in each place. It is highly advised that you spend at least 2 nights in Manang to let your body acclimatise and recover for the final ascent over the pass.
Listen to Your Body
When you climb over 3,000 metres your body can covert 40% less oxygen than at sea level. This makes walking for 10 minutes feel more like an hour, and altitude sickness becomes a real danger. Acclimatisation, drinking lots of water and getting enough sleep are all essential for keeping yourself safe on the mountain. If you're feeling unusually fatigued, or have a constant headache, you should take an extra day of rest. If the symptoms don't improve, then begin to descend. Altitude sickness can be a serious danger, so it's important to listen to your body and look after yourself.
Most importantly – enjoy it! Breathe in that mountain air, stop regularly and take in those unbelievable vistas.
This is a once in a lifetime trip for most people, so absorb every second of the incredible journey.
Our Top 3 Suggestions For You